For its 15th anniversary, The cult classic .hack//G.U. is getting a full remaster for PS4/PC, as revealed by Famitsu. .hack//G.U. Last Recode will feature all three games with updated HD 60FPS visuals, faster revamped gameplay, balancing changes from the original game, and additional features. Bandai Namco announced today it would release late 2017 in the west.
Teaser Trailer
.hack//G.U. Last Recode screenshots

There is also a new .hack project in development, with special announcements coming in the future.
---
The official website is live
---
A trademark has been filed for a US release. Announcement soon.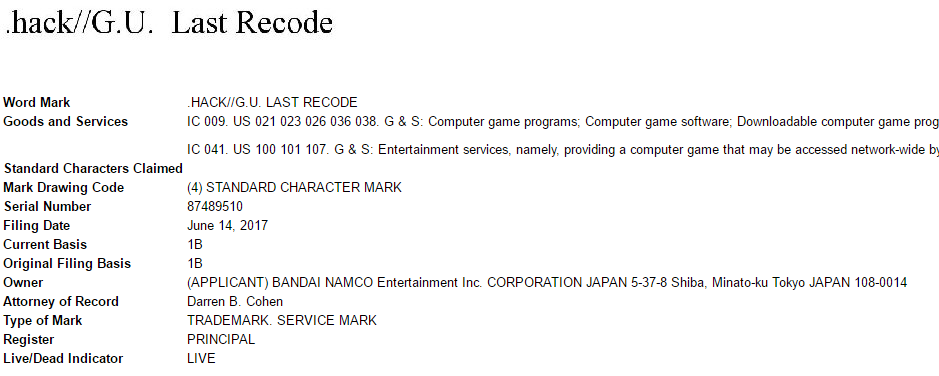 ---
Full details on the remaster, via Gematsu
Updated visuals

1080p and 60 frames per second
High-resolution movies
High-detail backgrounds and user interface, etc.

Game system evolutions

Retry feature added
Movement speed increased
Auto mode (play with your strongest levels and equipment)
Maximum items you can possess has been increased to 90
Item menu shortcuts and sort features
Feature to use the same item over and over
Empty equipment slots are easier to understand
Maximum Chim Spheres and Virus Cores you can possess has increased to 999
New recovery method "leisurely break" added to the platform, available from the early stages
You can choose between Saku and Bo in the party
Decreased the probability of allies selling the items you give them
Improvements made in Vol. 2 and Vol. 3 have been applied to Vol. 1
Attack power has been increased and hit stops during attacks have been reduced to speed up the battle tempo
Learning weapons proficiency increased and acquired experience points increased
You can skip Awakening scenes
Some tough enemies have been made a bit easier
Keith's general shot bullet speed has increased
Avatar battle balance revised
Added suspend feature during Avatar battle gameplay
In Vol. 3, changed it to make it possible to do the marriage events with all characters that can become your ally, without having to redo them

Additional Elements

The videos from "The End of the World" Terminal Disc included with the original PS2 release of Vol. 1 are included in the collection

There is a Haseo with an unfamiliar face…